Circa 1974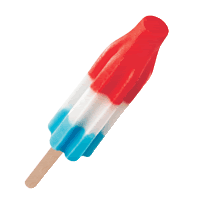 My favorite pair of jeans — the kind with denim "windowpanes" sewed on &mdash were worn through at the knees and hems, and my Keds were ragged. I usually wore my hair in two long braids, covered by a bandanna. As I walked the blocks of our suburban neighborhood to my friend Elisa's house, I slurped up a bomb pop, tried to teach myself to whistle really loud without using my fingers, wondered if Bob Good would ever play spin-the-bottle with me again, and sang my favorite songs.
Records and the radio were always playing at our house. Our single and crazy mom loved opera and
Nana Mouskouri
. My oldest sister wore roach clips in her frosted and feathered hair and was into kick-ass hard rock, the next older sister wore glittery shirts and overalls and was a disco and funk fanatic, and my little sister was still a baby listening to baby stuff. Since I was in elementary school at the time, I was more into listening to the Dr. Demento show, thus my singing-down-the-street songs tended to be of the novelty variety:
Popcorn, by Hot Butter (less sung than clucked)
Brand New Key, by Melanie (which I still sing at karaoke all the time)
Knock Three Times, by Tony Orlando and Dawn (interactive!)
...and the tune featured in this (much-later in the '70s) video, made all the more nostalgic with the inclusion of "Special Delivery", the band made up of
Kids are People Too!
dorks.
Little known fact: The Queen banned this song in the UK upon its release, thinking the wah-wah-whoop organ solos were meant to be the sounds of actual Muskrat Love.
Labels: 1970s music, Bomb pops, Captain and Tenille, Kids are People Too, Muskrat Love, Nana Mouskouri