It's Good to Have a Hobby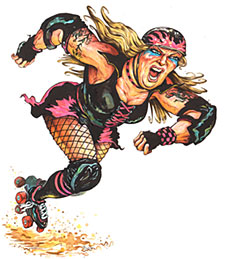 Roll on.
So I went to a
Rocky Mountain Roller Girls
bout a couple of weeks ago with Superfly, the Troublets and my BFF Jaymie. I know quite a few righteous babes who participate in roller derby all over the country and fully support the idea of DIY, all-girl roller derby. It was a blast!
During a break in the action they held a contest: moms were invited to try to ring a roller girl with a hula hoop. Far be it for me to pass up a contest of any kind (competitive much?); I stepped up and ringed her on the first try. Yay! Free tickets!
After giving it about about 2 seconds consideration, I emailed the team's organizer and filled out the application. Invited to the first practice presumably to confirm I wasn't a complete troll and the second to confirm I could skate.
The thing is, I need a Roller Derby Name. Something "punny", like my teammate Assaultin' Pepa, and fearsome. It's a family show, so no obscenities or adult references. I've been told that "Trouble on Wheels" is already taken.
Please, I need your help!
Labels: Roller derby